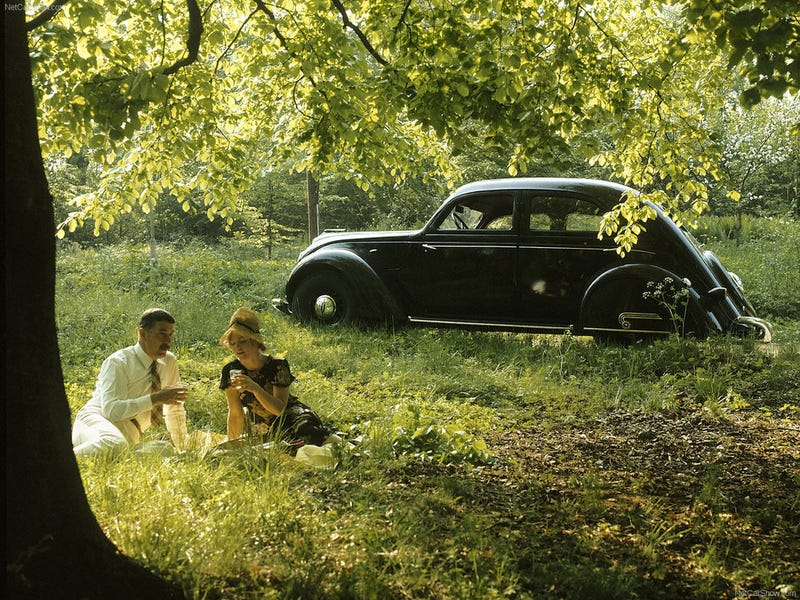 How can you not love streamlined, "Art Deco" designs? Pretty much everyone was experimenting with various wind-swept shapes in the 1930s, and you can trace a line from the European carrozzerias to the most progressive styling studios of the United States.
There was a sense, at least among automakers, that aerodynamic designs were inevitable—the question was who would succeed in selling the new shapes to the public.
For the luxury market, some tried to push the envelope of aerodynamic performance, like the Tatra T77 and T87. Some sold beauty, like the Gordon Buehrig-refined Auburn 851 Speedster.
When looking at family cars, however, the Chrysler / DeSoto Airflow and Volvo's Carioca were on the cutting edge.
From 1933's Venus Bilo concept, that featured a streamlined, shovel-like front end, it was clear that the Swedish automaker was looking to push aerodynamics to its clientele.
The 1934 Volvo Venus Bilo Concept
It was designed by Gustaf Ericsson, the son of Lars Magnus Ericsson—Sweden's national phone magnate. Specially-designed luggage and auxiliary compartments were used to maximize space, while its streamlined fenders and enclosed underbody were used to save fuel.
Just two years later, and after the hire of Ivan Örnberg in 1931, a Swede who had been with the Hupp Motor Co in Detroit, the firm introduced today's car, the 1935 PV36 Carioca.
Swedish car buyers didn't know what to think.
Similar to the Chrysler Airflow and Hupmobile Aerodynamic, both introduced in 1934, it's clear designers on both sides of the Atlantic were trying to solve the same problems.
Its lines hid other major improvements: independent front suspension, pressed steel body, practical opening rear trunk, and strong six-cylinder engine.
The Volvo PV36 "Carioca"
Volvo's name for the car, PV36, is apparently because it represented the future…a year early. Carioca, its informal name, was a popular Brazilian dance at the time.
Like Chrysler, Volvo found that buyers weren't quite ready to pay the premium for aerodynamic styling, and the PV36 was dead after the 1936 model year.
With 500 built and fewer than 25 around today, it's a little surprising that modern car collectors haven't yet started finding and restoring the very first streamlined Volvo.
Aerodynamic vehicles, though, were inevitable. Automakers around the world were using streamlining to push the very edge of performance. In Germany, Mercedes-Benz and Auto Union were already racing with top speeds in the neighbourhood of 400 km/h (250 mph.)
As for naming vehicles after dances, a Japanese automaker would follow suit a few decades later. But that's a story for another day. Click here to subscribe to Banovsky's Car of the Day email.
Sources / Recommended reading: