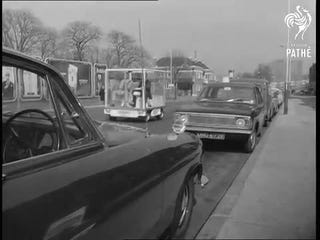 I know, right? Isn't it sexy? I was inspired by all of the hate going on as BMW-owned Mini keeps pumping out derivatives—yesterday, it was the five-door Mini Hardtop 4 door.
(Seriously. And seriously stupid.)
I'm sure they'll sell tons of them, and auto writers will boast that it is still "Mini-like" and can hang with a Volkswagen GTI.
Bor-ing.
This is the type of Mini derivative I like to see. Back in the old days where safety was the responsibility of drivers, there was much more freedom in what you could and could not do.
You can see what it looks like…would you drive it? I would—in my estimation if a modern pickup truck hit a classic car it wouldn't matter if you were driving a Unipower or an El Camino. (You may be a little more deceased in the Unipower, though.)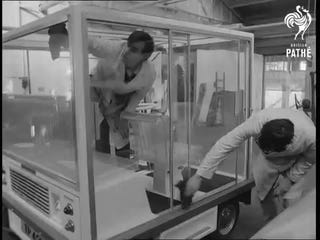 Vietnam-born Nguyen Manh Khanh—later known as Quasar Khanh—was a visionary designer who is best-known for his line of inflatable furniture. Called the "Architect of air," Khanh sought to make design more accessible by using new and inexpensive materials.
The inflatable furniture, for instance, was produced from PVC in a beach ball factory. Galleries around the world still exhibit his art and design work.
Khanh's Unipower was designed as an inner city runabout. It was wider than long and taller than wide, the car was—in my estimation—one of the most unique ever constructed. Like Marc Newson's 1999 Ford 012C concept, sometimes the most innovative designs come from non-automotive designers.
The Quasar WAS nominated as a "boring-looking" car, though. I disagree.