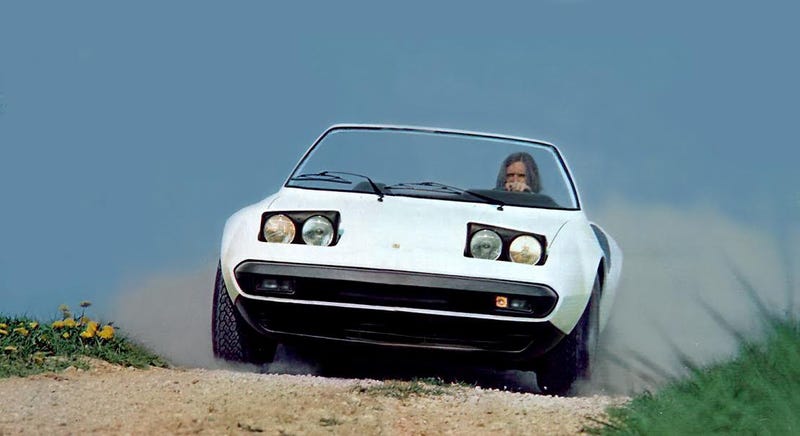 As a pasty white guy, my relationship with the sun is a collection of memories I'd rather forget. I don't even look good with a tan—and by tan, I mean my freckles just sort of melt together, like butterscotch chips.
That said, I do own a targa-top car. And I do see the appeal of open air motoring, provided you're not trying to go anywhere quickly. With a 320-horsepower V12 engine, the Felber Ferrari Beach Car would certainly go quickly.
Before you get all hot over this one-off, though, I have two words for you: cowl shake.
And that's just it. With respect to WH Felber Automobiles SA (liquidated in 1991) and Willy Felber (who died in 2002), there's no evidence that any of their vehicles were really all that well-engineered. The company launched with a Ferrari 330 GTC chopped up into a sort-of Ferrari 166 Spyder neo-classic…and things didn't really get much better from there.
Note: If you do a cursory Google search for Felber, you'll also notice a small minicar called the Autoroller TL400. That was built by A. Felber & Co. in Vienna, Austria, in 1952-53. No relation.
An early partnership with UK-based Panther Westwinds nearly landed Felber in the oh-God-kit-car pile, but the firm did have a partnership with Michelotti, to which the Beach Car is sometimes credited (they constructed it.)
Michelotti was no stranger to beach cars—the Michelotti Shellette was bought by the Dutch Royal Family and Jacqueline Onassis, among others. The swoop of the Beach Car's door says "Shellette," at least to me. But whereas the Shellette had practical wicker seats—and dashboard—the Beach Car features an interior that appears to be trimmed in blue leather.
The Beach Car featured a Shellette-like door opening.
But wait, there's more! According to a Ferrari 365 GTC/4 owner's forum, the Beach Car, chassis 16017, was built by Michelotti for the 1976 Geneva Motor Show in white, and then re-bodied as a wagon for the 1977 Geneva show. The wagon body was scrapped, and the Beach Car body, now in gold, was reinstalled.
Felber didn't last much longer, and finished making custom cars in 1984. In my estimation it's because he started restyling Malaise-era Pontiacs. For the Swiss. The Encyclopaedia of Classic Cars says he "converted" more than 150 vehicles in all.
The subject of today's Car of the Day is currently being offered for a private sale in Switzerland for…$3 million Swiss francs—or $3.4 million USD. By this point you're saying, "Wait, what about those Felber Pontiacs?"
…but that's a story for another day. Click here to subscribe to Banovsky's Car of the Day email.
Sources / Recommended Reading